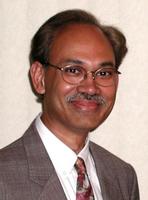 Dr. Ahmad Faruqui, Senior Fellow and Director Research at AIIS, is a defense analyst and energy economist based in the San Francisco Bay Area. He is a weekly columnist for Daily Times (Lahore), and writes occasionally for Asia Times (Hong Kong) and the Global Beat Syndicate (New York University). He is the author of

Rethinking the National Security of Pakistan

(Ashgate Publishing, 2003).

His research papers include: "Saddam Hussein as Military Commander," Asian Defence and Diplomacy, June 2004; "First three years of President Musharraf," Al-Siyasa, Fall 2002; "Is the USA fighting terrorism with the wrong weapons?," Security Dialogue, March 2003; "Pakistan: The Political Economy of Militarism," Journal of Conflict, Security and Development, Volume 2, Number 2, Summer 2002; "South Asia's Enduring Conflict," Asian Defence and Diplomacy, March 2002; "General Musharraf's Management of Pakistan's National Security," RUSI Journal, February 2002; "Recidivist Militarism in Pakistan," Asian Affairs (London), October 2001; "Waiting for America: the continuing predicament of Pakistan," Journal of Conflict, Security and Development, Volume 1, Number 3, 2001; "Pakistan in the eye of the cyclone," Asian Affairs (Hong Kong), Volume 16, 2001; "The complex dynamics of Sino-Pakistan ties," IPRI Journal (Islamabad), Summer 2001; "Scenarios of Pakistan's long-term security environment," Defence Journal (Karachi), August 2001; "Beyond Strategic Myopia in South Asia," Strategic Review, Winter 2001; "Failure in Command: Lessons from Pakistan's Indian Wars," Defense Analysis, Volume 17, Number 1, 2001; "The Fallacy of Nuclear Deterrence," Asia Pacific Military Balance, 2000/2001; and "Pakistan's Strategic Myopia," RUSI Journal, April 2000.

He has contributed op-ed pieces on national security issues to The News Sentinel (Fort Wayne, Indiana), Journal Star (Peoria, Illinois), The Contra Costa Times (Danville, California), The Friday Times (Lahore, Pakistan), The San Francisco Chronicle, The San Jose Mercury News, The News on Sunday (Karachi, Pakistan), The Nation (Lahore, Pakistan), Pakistan Link, Pakistan Today, The Weekly Independent (Lahore, Pakistan) and Wisconsin State Journal.

His research on energy problems facing India and Pakistan has been published in Asian Profile, Energy Policy, Power Economics and Utilities Policy. He is a consultant to electric utilities in North America and abroad, and has co-edited three books and more than 100 articles dealing with electricity planning, marketing, and management. His most recent book dealing with the energy issues is Electricity Pricing in Transition (Kluwer Academic Publishing, 2002).

He holds B. A. and M. A. degrees in economics, First Class First, from the University of Karachi, where he was awarded the Rashid Minhas (Shaheed) Gold Medal, and a Ph. D. in economics from the University of California, Davis, where he served as a Regents Fellow. He has taught economics at the University of California - Davis, San Jose State University, and Karachi University. He belongs to the American Economics Association, the Commonwealth Club of California, Economists Allied for Arms Reduction, Nature Conservancy and the Sierra Club, and is listed in Who's Who in America.